Looking to expand your pallet truck fleet as the warehousing industry grows? TCM has just expanded its range in response to customer and market demand.
Our three new models have different platform positions so you can find the right electric pallet truck – or trucks – for your operational needs. All three help improve material handling efficiency, safety and operator comfort.
Ideal for loading/unloading and order picking, the new trucks build on TCM's reputation for innovation and reliability. They also complement the rest of the TCM range, with further choice on offer in terms of optional extras and battery type.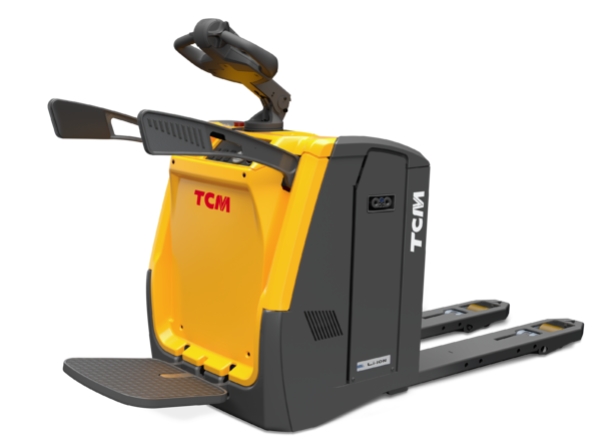 New TCM Powered Pallet Trucks - PTF
Maximum flexibility: a foldable-platform powered pallet truck
PTF is a pedestrian/rider truckthat allows operators to change its function: either ride-on or walking behind the truck depending on the task. They can move more quickly in ride-on mode or slow down for walking mode. The ability to switch between different tasks improves efficiency, which reduces the TCO (Total Cost of Ownership) of the truck.
In safety terms, the driver can raise the platform and lower the sidebars for pedestrian operation with increased manoeuvrability. For longer travel runs at increased speed, they can lower the platform and raise the sidebars. It's quick and easy to apply the change, increasing operational uptime.
With distribution workers under pressure to carry out tasks as swiftly as possible, pallet trucks must also be stable and robust. With PTF, these qualities are an integral part of the design. The truck is equipped with TDS, a sophisticated and unique, patent-pending traction system, which solves the age-old problem of how to combine effective traction, damping and stability. The result is better handling for the truck – even over uneven, slippery and wet surfaces and when cornering. This protection against shocks and vibration also prolongs the life of the truck. Meanwhile, a dampened platform increases operator comfort and protects their productivity.
Your fleet will also benefit from the truck's market-leading compactness, lift height, control and ergonomics.
Not sure if a foldable platform is right for you?
The two other new TCM models have fixed rider platforms, positioned to suit the various different needs of warehouses, distribution centres and other material handling situations.
Fixed rider platforms: a popular feature now available as standard
If the safety of a protected platform truck is best for your needs, you have a choice of two new versions with fixed rider platforms:PTP/R (with rear-entry platform) and PTP/S (with side-entry platform). Previously, fixed platforms were often regarded as an optional extra but due to their popularity, we've introduced these as standard on these models.
New TCM Powered Pallet Trucks - PTP/R
Like the rest of the TCM range, PTP/R and PTP/S are designed for comfort and safety. Because not every driver weighs the same, fixed platform models have the option of a unique dampened platform. This innovative design allows them to electronically adjust the dampening for their comfort, just by pressing a switch.
On the PTP/R (rear-entry platform), a foot protection sensor detects if the operator's feet aren't completely onboard. If not, the truck will slow to reduce the risk of injury.
Fixed platforms are a great choice for low-level order picking. The side-entry model could be particularly convenient for your location and operations, but your local TCM dealercan advise you. Either way, selecting the right model for your requirements is another way to improve operational efficiency and TCO.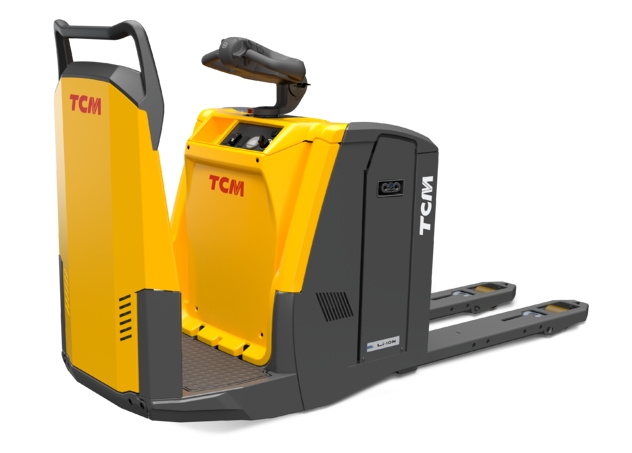 New TCM Powered Pallet Trucks - PTP/S
What else to expect from the new range
All of these models are electric, but you could choose to have a fully integrated Li-ion battery. This charges quickly for constant operation and needs no regular maintenance.
The range also features best-in-class control, with easy access to controls and optimised tiller heads designed for convenience and ease of use.
Models offer maximum choice in terms of steering technology. Both the tiller-type power steering via a short tiller arm and Comfort Steering via a tiller head avoid the transmission of shocks and vibration to the operator's hands, preventing strain and fatigue. Mechanical steering with a long tiller arm offers a simple, low-effort manoeuvring solution for less intensive environments. (Mechanical Steering is available with PTF, but tiller-type steering and Comfort Steering can be either standard or optional with the fixed platform models, depending on the model chosen.)